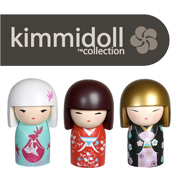 Kimmidoll™
The kimmidoll™ brand was conceived following a long standing passion with elegant decorative gift and homeware items inspired by Eastern culture. There is one philosophy that all the kimmidoll™ share, and that is about celebrating important values in life's journey such as kindness, happiness, joy and respect. The kimmidoll™ range allows you to celebrate these values with your friends and family. The kimmidoll™ design philosophy is inspired by the beauty of nature and the world around us, as well as the inspirational values that each item represents".
Hi there, Fashion Maven
This sale event has ended - but at Modnique, style never stops.
Click here to go to our homepage filled with great styles at great prices. Shop on!
Copyright © 2014 Modnique.com
|
All Rights Reserved